The 15th Asia-Pacific Internet Research Alliance (APIRA) International Conference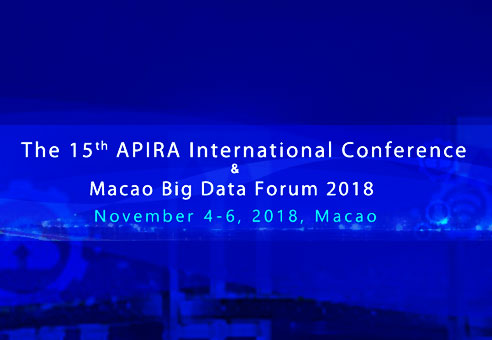 Details of the event: 

http://apira2018.macaointernetproject.net/index.php

Welcome to The 15th APIRA International Conference
&
Macao Big Data Forum 2018
The 15th Asia-Pacific Internet Research Alliance (APIRA) International Conference will be held in Macao SAR, from November 4th to 6th, 2018. This is the 15th annual conference held in turn by APIRA's board members. The APIRA partners, Internet researchers, industries and policy makers will come together to share their research results, viewpoints and to foster interactions and collaborations.
Meanwhile, the Macao Big Data Forum 2018 will also be held. The forum will not only discuss the current situation and potential development of Big Data in the future, but more emphasis will be laid on its relationship with Smart City.
Your presence in the conference and the forum will definitely help to make this event a successful one.
We are looking forward to seeing you in Macao.
Locations and Dates
The conference and the forum will be held at the Macao Polytechnic Institute (Lecture Theater 2, Wui Chi Building-1st Floor) from November 4th to 6th, 2018.
Date
Content

November 4

, 2018
Arrival and Registration

November 5

, 2018
Conference & Forum

November 6

, 2016
Networking Activity
Prganizer
◆ Asia-Pacific Internet Research Alliance (APIRA)

Hosts
◆ Macao Association for Internet Research (MAIR)
◆ Macao Association for Promotion of Science and Technology (MAPST)
◆ Macao Polytechnic Institute (MPI)
◆ The Science and Technology Development Fund (FDCT)

Supporting Organizations
◆ Macao Government Information Bureau (GCS)
◆ Macao Post and Telecommunications Bureau (CTT)
◆ Public Administration and Civil Service Bureau (SAFP)

◆ China Internet Network Information Center (CNNIC)
◆ Korea Internet Security Agency (KISA)
◆ Taiwan Network Information Center (TWNIC)
◆ Malaysian Communications and Multimedia Commission (MCMC)
◆ Hong Kong Internet Registration Corporation Limited(HKIRC)
Important Dates
Submission of abstracts: October 10, 2018
Notification of acceptance of presentation: October 15, 2018
Registration due: October 31, 2018
Submission of PPTs: October 26, 2018
Conference & Forum program: November 5, 2018
Further information
For up-to-date information about the conference and the forum, please visit
http://apira2018.macaointernetproject.net    OR   http://www.apira.org
Inquiry
Email: mair@macaointernetproject.net